Regular Service – every Sunday morning at 8:30 a.m.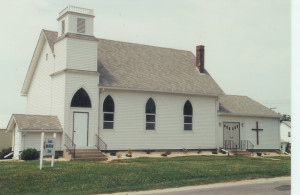 The Fountain United Methodist Church was officially started between 1906 and 1912. It has pulled in many from the area since then and has been an active in the surrounding community. It is a small, warm, family centered congregation. The members of The Fountain United Methodist Church would like to welcome you into their family.
One of the most dramatic changes to take place within our nation in the last fifty years is probably our newfound ease of mobility. Transcontinental highways, jetliners and a host of other modes of transport have caused us to become, in some ways, a nomadic people who move with some regularity in search of better work, better weather, or better living conditions. In many larger cities as much as 50% of the area's population turns over every five years! In the process we leave behind the extended families and friends that were once so important to us, and lose those relationships that were once woven into the daily fabric of our lives and that both defined and sustained us. Those of us who do uproot and move often find ourselves forced to choose today between living in isolation or finding a new support community to call home.
Many of us in the Fountain area have found that new home in the midst of the worshiping community at the Fountain United Methodist Church. While several of our members are related, and we do have a number of multi-generational families present, we offer a warm fellowship where newcomers quickly become a part of our family too!
Please consider this an invitation to come and worship with us. If you do, we think you'll soon discover that you've found your way home.
---